Leader in Forensic Nursing Research, Outreach & Education
Serving one of our state's most vulnerable populations, our team of experts at Texas A&M University School of Nursing is translating evidence based research into practice, supporting sexual assault nurse examiners as they seek state certification and increasing access to trauma-informed care for victims and perpetrators of intentional violence.
Established to support people who experience violence across the lifespan, the Texas A&M Health Center of Excellence in Forensic Nursing facilitates interprofessional collaborations to offer unsurpassed research and training opportunities by providing forensic nursing education and outreach for nurses, other medical professionals, law enforcement, attorneys, social workers and advocates. The Texas A&M University System Board of Regents formally approved the Center of Excellence in Forensic Nursing in August 2019, establishing the state's first state- and federally-funded center. This designation significantly expanded the capabilities and funding resource opportunities in support of the Texas A&M School of Nursing's initiative to advance forensic nursing education, outreach and research.
What is Forensic Nursing?
Victims of violence—those who endure sexual assault, intimate partner violence, neglect or any other form of intentional injury—deserve and require patient-centered, trauma-informed care. Forensic nurses are professionally trained to treat these victims as patients, keeping them and all they have endured at the center of that treatment.
Texas Evidence Collection Protocol
In an unprecedented, joint effort with the Office of the Texas Attorney General , faculty with specialized training and education in forensic nursing at Texas A&M School of Nursing formalized updates to the Texas Evidence Collection Protocol (TXECP).
This document serves as the standardized guide for physicians, physician assistants, advanced practice nurses, nurses, sexual assault nurse examiners and fellow health care professionals to use in their mission to provide trauma-informed, evidence-based and patient-centered care across the entire state of Texas. Learn more about the TXECP with our webinars.
Contact The Center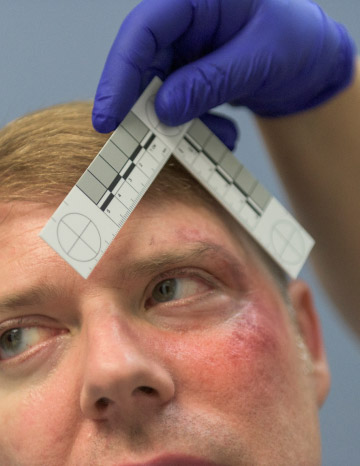 The Vision of the center is to be a nationally recognized, well-funded and endowed research, education, and outreach center of Excellence in Forensic Nursing.
The Mission of the center is to improve health outcomes of those affected by violence and disaster. The center leads the nation in develop[ing and implementing interdisciplinary, trauma-informed strategies to prevent and address violence across the lifespan through research, academic programs, continuing education and outreach.
The Goals of the center are to:
Educate Texas nurses to provide trauma-informed cared to violence victims;
Establish partnerships with community stakeholders to stop cycles of violence;
Advance forensic nursing knowledge through research; and
Develop leaders via a Master of Science in nursing with a forensic focus.
The Texas A&M Center of Excellence in Forensic Nursing, as designated by the Texas A&M Board of Regents on August 8, 2019, establishes a first of its kind resource for registered nurses, emergency health care professionals, physicians assistants, law enforcement officers and others that interface with some of our state's most vulnerable populations.
Our forensics team is leading the charge is sustaining positive momentum and impactful research through strategic partnerships, community outreach and engagement, and unique simulations to educate, train and equip nurses to provide trauma-informed, patient-centered care.
Deliver continuing profession education through web-based platforms, instructor-led trainings, special-topics workshops, and experiential learning (simulation) through Texas.
Assure access to highly qualified sexual assault nurse examiners (SANEs) through training directed at nurses working in rural and underserved areas.
Implement a web-based statewide Community of Practice to underwrite support for and consultation to forensic nurses in Texas.
Create and disseminate academic lectures for Texas A&M students and community-focused newsletters on interpersonal violence topics such as human trafficking and elder abuse.
Assist governmental agencies to provide impactful activities to address interpersonal violence, including providing input on pending legislation.
Support the community by delivering care to those experiencing violence and abuse.
Subject to state and federal funding, develop telehealth innovations to support health care providers to provide evidence-based, trauma-informed care to patients in rural and underserved area requiriing treatment related tio interpersonal violence.
Tex-Trac
Providing expert care to sexual assault victims in rural and underserved communities of Texas.